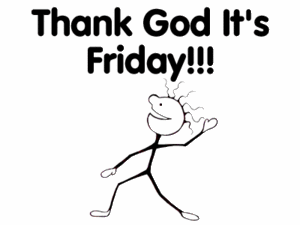 TGIF! Actually, for this being my first full week back to work, it wasn't too bad. It went by pretty fast. But as I sit here, knowing I have two hours left of work, I swear time is in reverse! I probably shouldn't even be blogging on work time, but it's Friday afternoon, everyone else is already gone, and I'm sort of in a standstill position with a few of the items I'm working on as I'm waiting for other people to respond so I can move forward.


Last night was my first night back to bowling after three weeks off AND it was position round. How nice for a position round to be played after everyone has been off for 2-3 weeks. But, apparently that didn't matter for me. I have a 155 average and bowled a 208, 147, and a 179. Not too shabby for being a little out of practice. And we took 6 out of 8 points so I think we ended up in 3rd or 4
th
place for the first half. MUCH better than last year considering we ended up in 17
th
place the first half of last year...
lol
.
Oh and then I had to get gas on the way home. I was going to stop at this one particular gas station, but then I remembered how slow their pumps are, so I stopped at a different gas station. Oh sweet lord!! Big mistake! This was the slowest gas pump I have ever used in my entire life! I swear I was there for like 10 minutes! You know how normally the numbers whiz by so fast you can't even see them? Oh no...not this time. I could clearly read the numbers in the
hundredths
spot on the gas gauge. That's ridiculous! But...I didn't really have anywhere to be so I just filled her up...all 18 gallons worth. And why are gas prices going up again? Can we say annoying?!?!
Tomorrow Jim and I are going to the
Red Wings
game to see our Stanley Cup Champs!!
I'm pretty excited since this is the first game we've gone to all season! By now we've usually gone to like 2-4 games already. I wanted to get Jim tickets for his
birthday
, but Ticketmaster had only corner seats left and we always sit there, so I kind of wanted to get better seats. So I went to
StubHub
, knowing that the prices were going to be jacked up, just to see what I could get. Well for two, upper bowl, non-corner seats, it would have been $175 for two tickets! I was so close to buying them but just couldn't do it. So a few days later, a guy at work puts out an email that he has two tickets for tomorrow's game, pretty much the same seats I was looking at, and only $90 for two tickets. It's just nice that he only charges face value for the tickets. I just hope the traffic doesn't suck getting down there. The
auto show
doesn't officially start until the 11
th
, but ya just never know when it comes to driving and parking in Detroit.

So that will pretty much be the highlight of our weekend. Don't get me wrong...tonight's grocery shopping will be quite electrifying, and will definitely be hard to top, but I'm thinking the Wings can probably trump our grocery shopping trip.

Have a good weekend!