So yesterday I went to get my haircut before going out to celebrate our anniversary with my boy.

This is what it looked like before:



And how it looks now:



I realize it's nothing crazy different, but I really wanted to keep the length. I had a bunch of layers put it and it looks so much better now and is much lighter (in weight, not color...lol). I love it!

Then we got ready to go out to dinner.



Jim ended up making reservations at



The inside was really nice and simple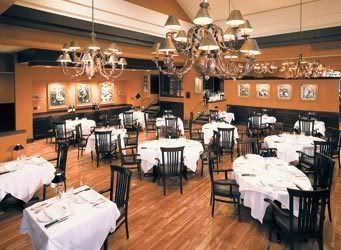 and the food was fantastic! We both started off with a glass of Grand Traverse Riesling. Then I had the tomato mozzarella chop salad and Jim had the baked five onion soup. Both delicious. Then the main dish...I of course had the filet and Jim had filet Marianne which was a 10 oz. filet cut into two 5 oz. portions and covered with a peppercorn sauce. The filets were SO TENDER! I love a good filet. We had grilled asparagus with a balsamic glaze and loaded mashed potatoes for out sides. Before we ate I was planning on dessert, but by the end of dinner I was stuffed and had to pass. Oh well. It was a great evening!